Glycocheck - Inflammation Studies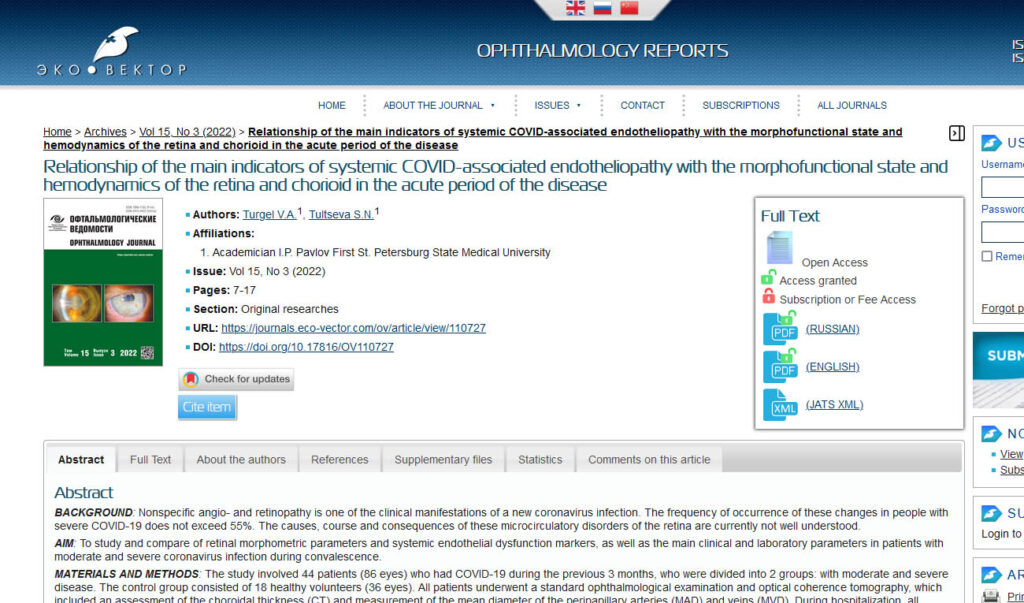 Relationship of the main indicators of systemic COVID-associated endotheliopathy with the morphofunctional state and hemodynamics of the retina and chorioid in the acute period of the disease
Nonspecific angio- and retinopathy is one of the clinical manifestations of a new coronavirus infection. The frequency of occurrence of these changes in people with severe COVID-19 does not exceed 55%. The causes, course and consequences of these microcirculatory disorders of the retina are currently not well understood.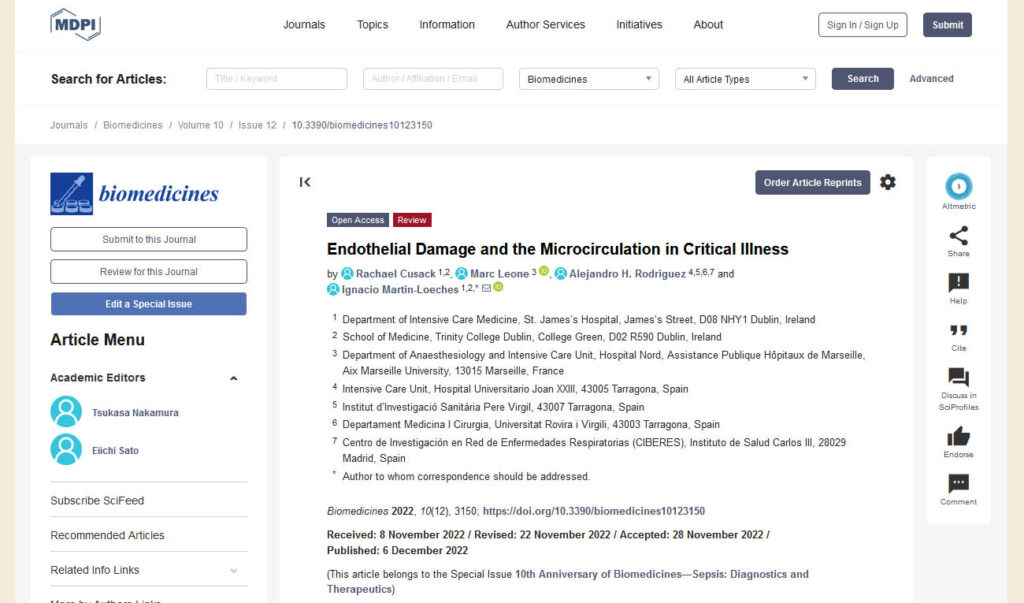 Endothelial Damage and the Microcirculation in Critical Illness
Endothelial integrity maintains microcirculatory flow and tissue oxygen delivery. The endothelial glycocalyx is involved in cell signalling, coagulation and inflammation.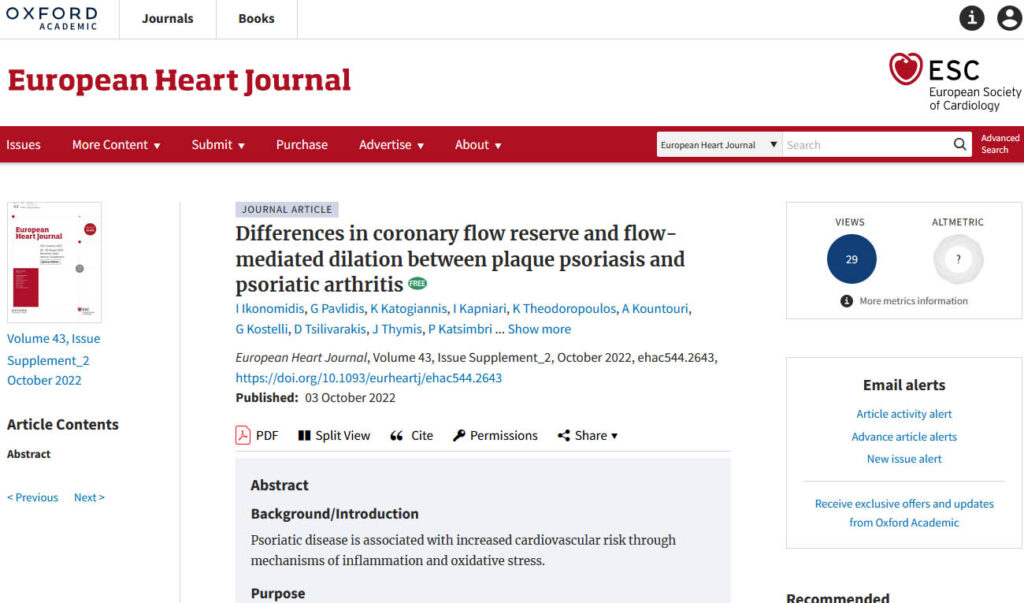 Differences in coronary flow reserve and flow-mediated dilation between plaque psoriasis and psoriatic arthritis
We aimed to investigate endothelial glycocalyx, coronary microcirculatory function and flow-mediated dilation in patients with plaque psoriasis and psoriatic arthritis.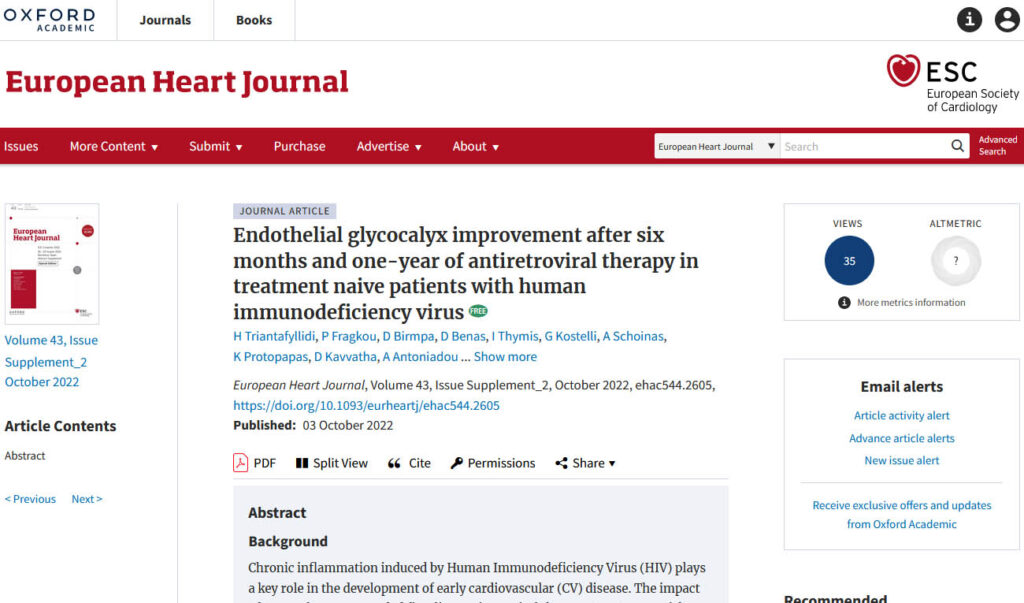 Endothelial glycocalyx improvement after six months and one-year of antiretroviral therapy in treatment naive patients with human immunodeficiency virus
Chronic inflammation induced by Human Immunodeficiency Virus (HIV) plays a key role in the development of early cardiovascular (CV) disease. The impact of currently recommended first line antiretroviral therapy (ART) on CV risk early after treatment initiation is still under investigation.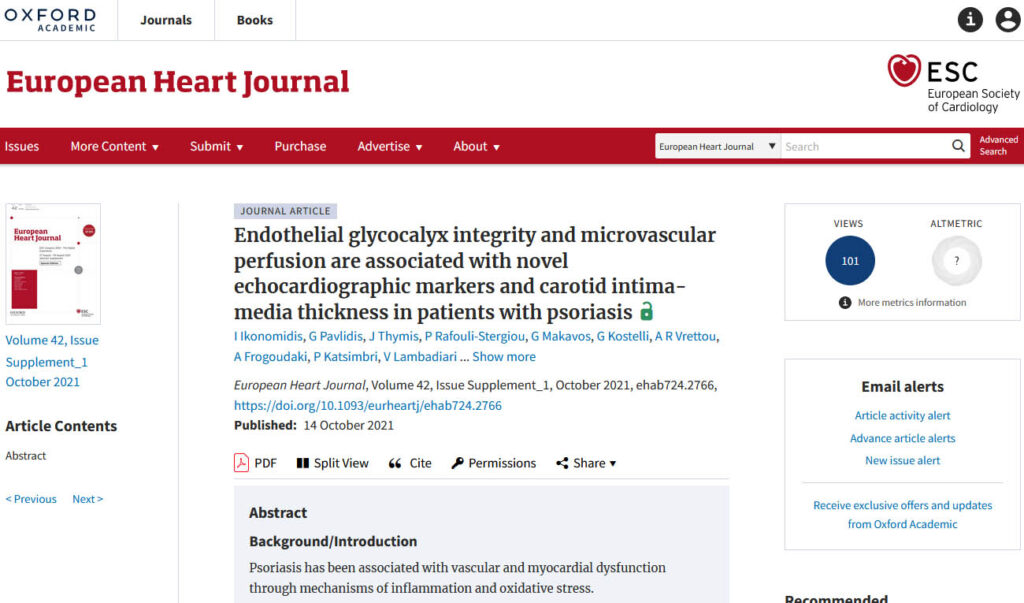 Endothelial glycocalyx integrity and microvascular perfusion are associated with novel echocardiographic markers and carotid intima-media thickness in patients with psoriasis
We aimed to evaluate sublingual microvascular perfusion and glycocalyx barrier properties in psoriasis patients, as well as their correlation with coronary microcirculatory function and markers of myocardial deformation and atherosclerosis (carotid intima-media thickness, cIMT).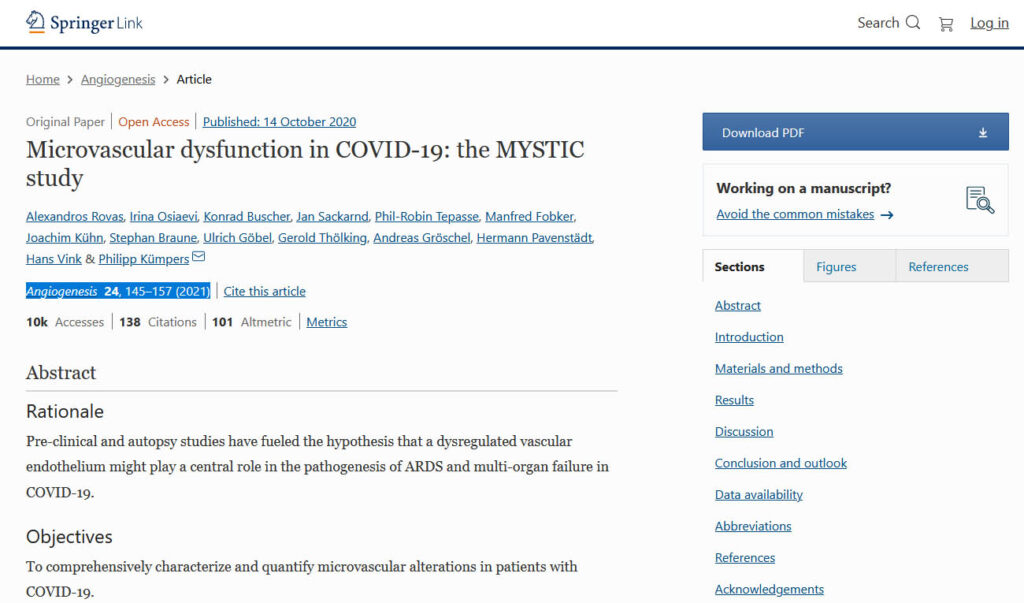 Microvascular Dysfunction in COVID-19 Patients: MYSTIC Study
Research reveals that COVID-19 patients have severe damage to microcirculation and the endothelial glycocalyx. The data in a newly released study clearly show severe reduction of microcirculation and the endothelial glycocalyx in patients with COVID-19 and underscores the importance of healthy microcirculation and capillaries.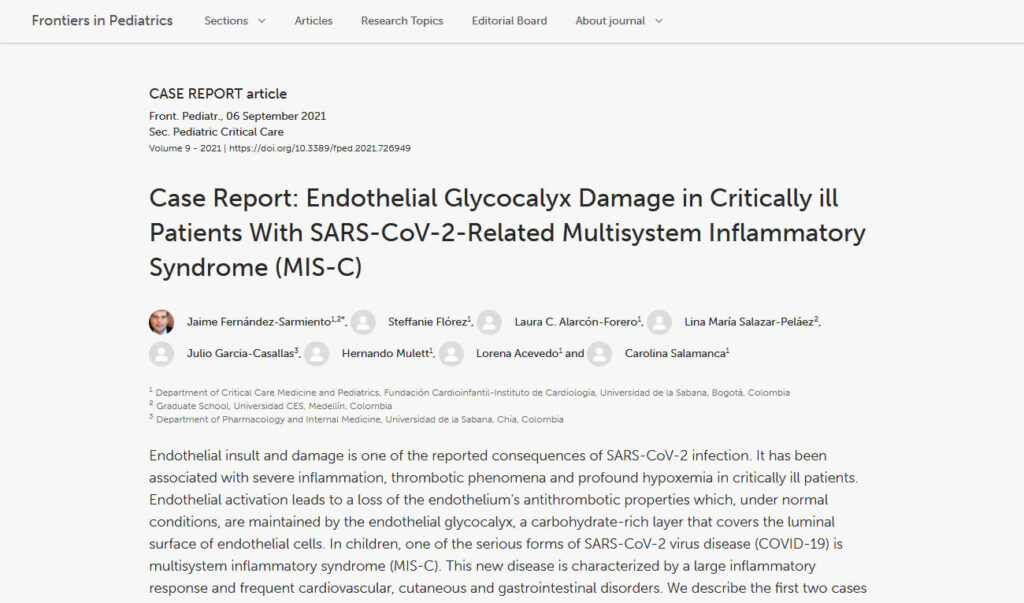 Case Report: Endothelial Glycocalyx Damage in Critically ill Patients With SARS-CoV-2-Related Multisystem Inflammatory Syndrome (MIS-C)
Endothelial insult and damage is one of the reported consequences of SARS-CoV-2 infection. It has been associated with severe inflammation, thrombotic phenomena and profound hypoxemia in critically ill patients.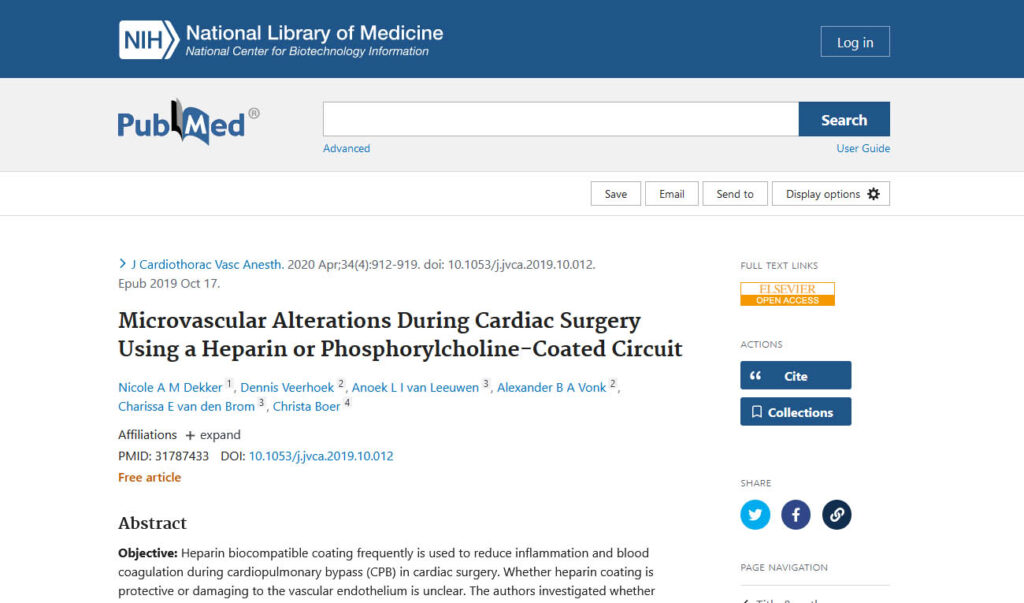 Microvascular Alterations During Cardiac Surgery Using a Heparin or Phosphorylcholine-Coated Circuit
Heparin biocompatible coating frequently is used to reduce inflammation and blood coagulation during cardiopulmonary bypass (CPB) in cardiac surgery. Whether heparin coating is protective or damaging to the vascular endothelium is unclear. The authors investigated whether heparin-coated (HC) circuits are associated with better preservation of microcirculatory perfusion and glycocalyx dimensions compared with nonheparin phosphorylcholine-coated (PC) circuits.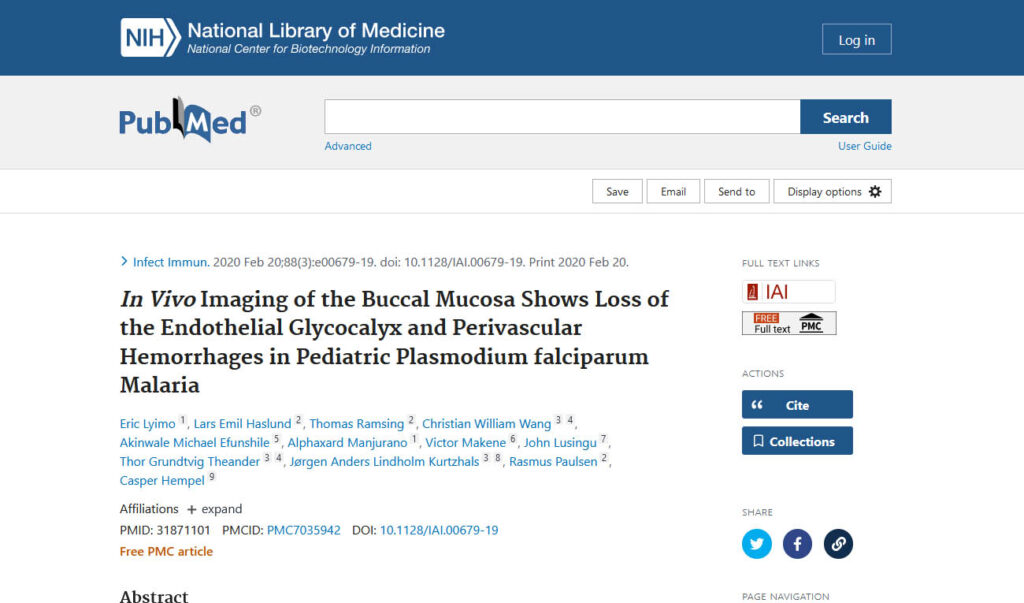 In Vivo Imaging of the Buccal Mucosa Shows Loss of the Endothelial Glycocalyx and Perivascular Hemorrhages in Pediatric Plasmodium falciparum Malaria
Severe malaria is mostly caused by Plasmodium falciparum, resulting in considerable, systemic inflammation and pronounced endothelial activation. The endothelium forms an interface between blood and tissue, and vasculopathy has previously been linked with malaria severity.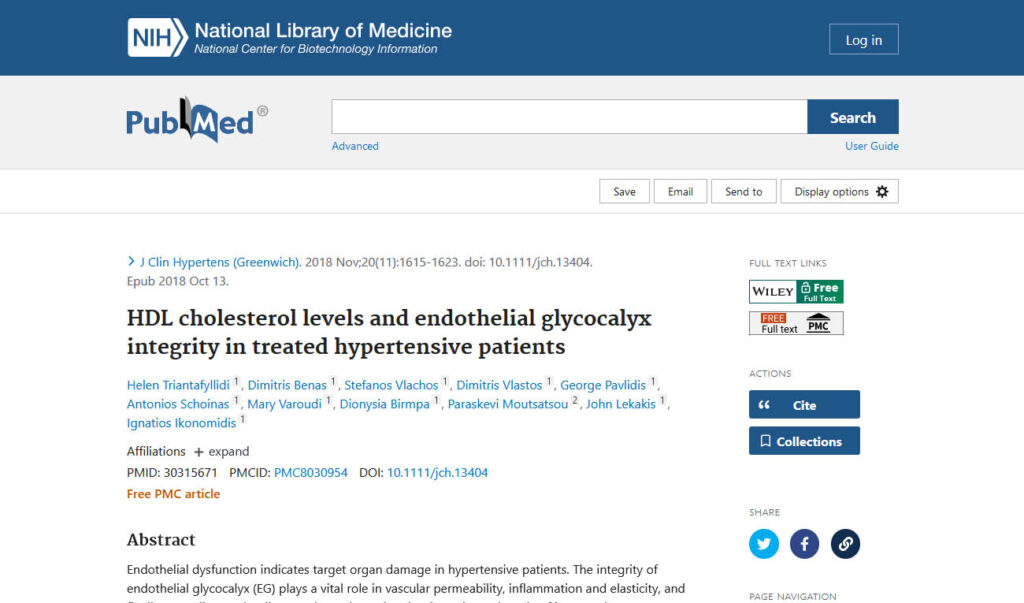 HDL cholesterol levels and endothelial glycocalyx integrity in treated hypertensive patients
Endothelial dysfunction indicates target organ damage in hypertensive patients. The integrity of endothelial glycocalyx (EG) plays a vital role in vascular permeability, inflammation and elasticity, and finally to cardiovascular disease.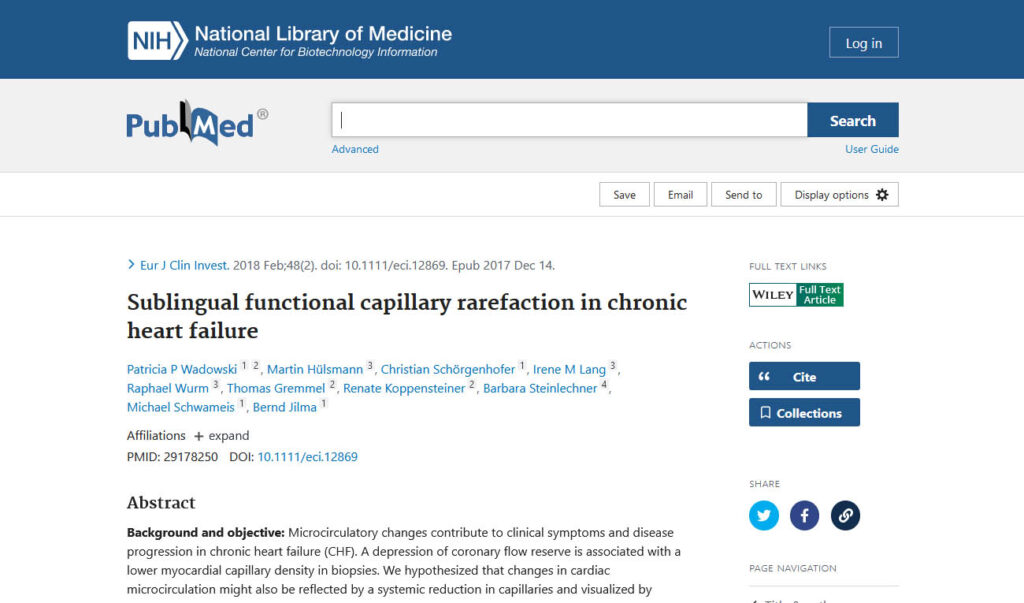 Sublingual functional capillary rarefaction in chronic heart failure
Microcirculatory changes contribute to clinical symptoms and disease progression in chronic heart failure (CHF). A depression of coronary flow reserve is associated with a lower myocardial capillary density in biopsies.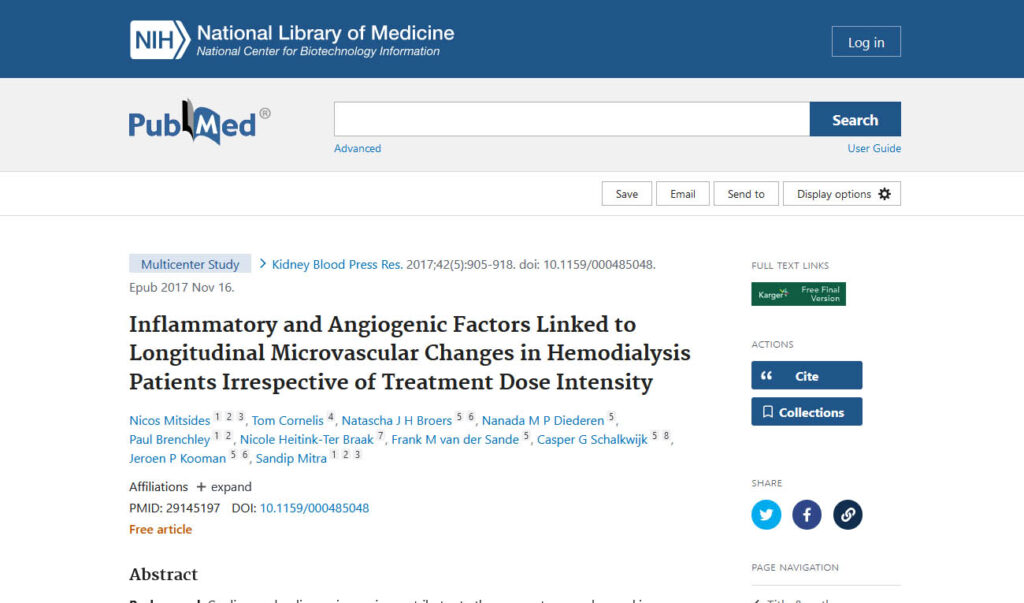 Inflammatory and Angiogenic Factors Linked to Longitudinal Microvascular Changes in Hemodialysis Patients Irrespective of Treatment Dose Intensity
Cardiovascular disease is a major contributor to the poor outcomes observed in hemodialysis. We investigated the relationship between hemodialysis intensity and vascular parameters in high-dose (HDHD; >12hrs/week) and Conventional (CHD; ≤12hrs/week) hemodialysis intensity over a 6-month period.